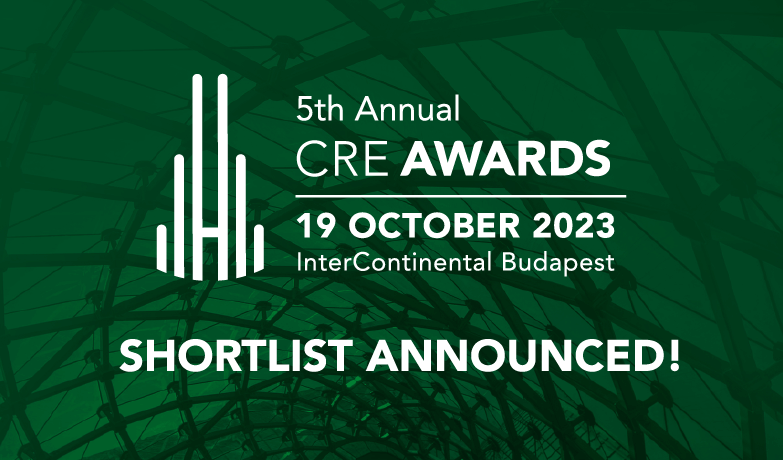 EuropaProperty is pleased to announce the shortlist for the 5th annual CRE Awards recognising the best buildings, companies, real estate deals and industry professionals across the international markets of Hungary, the Czech Republic, Slovakia, Serbia and the Balkans region. The winners from 26 categories will be announced at the Gala Dinner on October 19th in Budapest.
The CRE Awards will be held at the InterContinental Hotel in Budapest. This high-impact one-day event starts with the CEO Breakfast Forum including high-speed investor networking, presentations on Hungary and the region's economic potential, discussion panels on investment, finance & banking, and development – covering the office, retail, residential and industrial sectors, wrapping up with a Q&A session, and a light lunch with networking.
The evening awards (considered the ultimate networking event) begin with opening cocktails, a 5-star sit-down dinner and an awards presentation, closing with late-night networking and entertainment in the now traditional EuropaProperty fashion.
The awards ceremony is a unique opportunity to meet with colleagues, clients, and new and old contacts, and meet new entrants to the market. This makes for an excellent opportunity to promote your company or project in a professional and social atmosphere.
The CRE Awards is the only awards ceremony to recognize and honour excellence in the Balkans region and Hungary. The awards will be presented to companies and individuals who have demonstrated the best overall performance during the past year and produced consistent results.
Award Categories
Professional of the Year awards will honour the top men and women operating in the CEE region with a comprehensive award that fully recognizes the value and input of the individual to the real estate sector.
Company of the Year awards will be presented to the leading developer, consultant/letting agent, professional service provider, law firm, property management firm, and architectural firm. Criteria; companies are judged on their overall market contribution, quality of customer services, market innovation, commercial success, leadership and market penetration.
Project of the Year awards will be presented to the best developments. Projects are primarily rated on commercial success, environmental development principles and practices as well as the quality of design, building efficiency, and quality of location.
Highlighted countries include Hungary, the Czech Republic, Slovakia, Croatia, Slovenia, Bosnia Herzegovina, Montenegro and Serbia.
Semi-finalists for 5th Annual CRE AWARDS
Retailer
Fruitisimo Group
IN MOBILE Accessories
Kaufland
Pepco
Professional Service Provider
ASB Group
Deloitte Advisory
Blue Projects
ESTON International
Europtima | Build Solutions
Newmark VLK Hungary
ÓBUDA Group
TPA Czech Republic
WiredScore
Proptech Innovation Provider
FORDATA
ProptechZoom
R8 Technologies
workcloud24
Serviced Offices Provider
IWG
New Work
Scott.Weber Workspace
Facility Management Firm
CPI FM
Icon Real Estate Management
Neo Property Services
Project Management Firm
CBRE
ÓBUDA Group
Oktopaz
Property Management Firm
CBRE
Icon Real Estate Management
Multi Hungary
Law Firm
CMS Hungary
Lakatos, Köves & Partners
Noerr & Partners Law Office
Oppenheim
Agency
CBRE
Coreside Savills
ESTON International
Knight Frank
Bank
Erste Group Bank
Helaba
pbb Deutsche Pfandbriefbank
Investment Deal
Atenor sold RoseVille to Hungarian investors
Erste Asset Management acquired phase 1 of H20ffices in Budapest
GTC sold the Forest Offices Debrecen in Hungary
Indotek Group sells Sofitel hotel in Budapest
Mitiska REIM and JV partner OPC Group expand retail park portfolio in Slovakia
Prvý realitný fond acquired the Pribinova 19 office building
S Immo acquired Vienna Twin Towers in Vienna
Sale of Matrix A and B in Zagreb by GTC
Trei sells portfolio in Czech and Slovakia to Plan B Investments
WING sells Máriássy House office complex to GRAWE Group
Investor
Accolade
Adventum Group
ConvergenCE
CPI Property Group
Erste Asset Management
IAD Investments
Lodge Quai Advisors LLP
Market Asset Management
NEPI Rockcastle
REInvest Asset Management
WING
W.P. Carey
Residential Developer
CUBESPACE
Eagle Hills
LIVING (WING)
Property Market Real Estate Development
PSP Farman Holding
Zeitgeist Asset Management
Warehouse/Industrial Developer
CTP
CUBESPACE
HelloParks
Infogroup
Panattoni
WING
Best BTS Developer
CTP
Infogroup
INPARK
HelloParks
WING
Office Developer
Atenor
CUBESPACE
Futureal
GTC
Horizon Development
PSP Farman Holding
TriGranit
WING
Zeitgeist Asset Management
Project of the Year 
Future Project
100YARDS – LaSalle Investment Management – Czech Republic
Baker Street – Atenor – Hungary
BEM Center Offices and Kimpton BEM Budapest Hotel – Market Asset Management – Hungary
CTP VCS4 – CTP – Hungary
Hyde Park City – PSP Farman Holding – Serbia
Millennium Gardens (Phase 2) – TriGranit – Hungary
ParkSide Offices – Horizon Development – Hungary
Puro Hotel Budapest – Puro Hotel Development – Hungary
Residential Project (nominations still being accepted)
AFIHome Kolbenova – AFI Europe – Czech Republic
BudaPart HOMES 'F' building – Property Market Real Estate Development – Hungary
Kassák Passage – LIVING (WING) – Hungary
Hotel Project
Four Points by Sheraton Budapest Danube – Hungary
Hampton by Hilton Budapest City Centre – Hilton Hotels – Hungary
Hotel Prezident Palace Belgrade – Prezident Hotels – Serbia
W Budapest – Marriott Hotels – Hungary
Retrofit/Refurbishment Project
Academia – ConvergenCE – Hungary
Futurum Hradec Kralove – CPI Property Group – Czech Republic
Kaufland Bratislava Store – Kaufland – Slovakia
Liget Center – WING – Hungary
Palác Dunaj – Zeitgeist Asset Management – Czech Republic
Best BTS Project
Distribution centre in Olomouc for Amazon – Accolade – Czech Republic
IGPark Miskolc – Infogroup – Hungary
INPARK Nagykanizsa/Honeywell BTS – INPARK – Hungary
Warehouse Project
CTP BIA4 – CTP – Hungary
Faedra22 Faedra Group – Hungary
HelloParks Páty Budapest West PT1 – HelloParks – Hungary
IGPark Kecskemét South – Infogroup – Hungary
LogiCube Park (phase 1) – Defactoring – Hungary
Panattoni City Dock Törökbálint – Panattoni – Hungary
Office Project
Academia – ConvergenCE – Hungary
Corvin Innovation Campus – Futureal – Hungary
GTC X – GTC – Serbia
Liberty  Office Building – WING – Hungary
Port7 – Skanska – Czech Republic
Overall Awards
Professional of the Year (nominations still being accepted)
Bence Boronkay – Faedra Group
Csaba Zeley – ConvergenCE
Gondi Ferenc – CTP
Jakub Holec – 108 Real Estate
Martin Nolting – REInvest Asset Management
Noah M. Steinberg – WING
Rudiger Dany – NEPI Rockcastle
Vladimír Bolek – IAD Investments
Zoe Dobi – ESTON International