 About
the Event
5th Annual CRE Awards 2023
LIVE & ONLINE - October 19th, 2023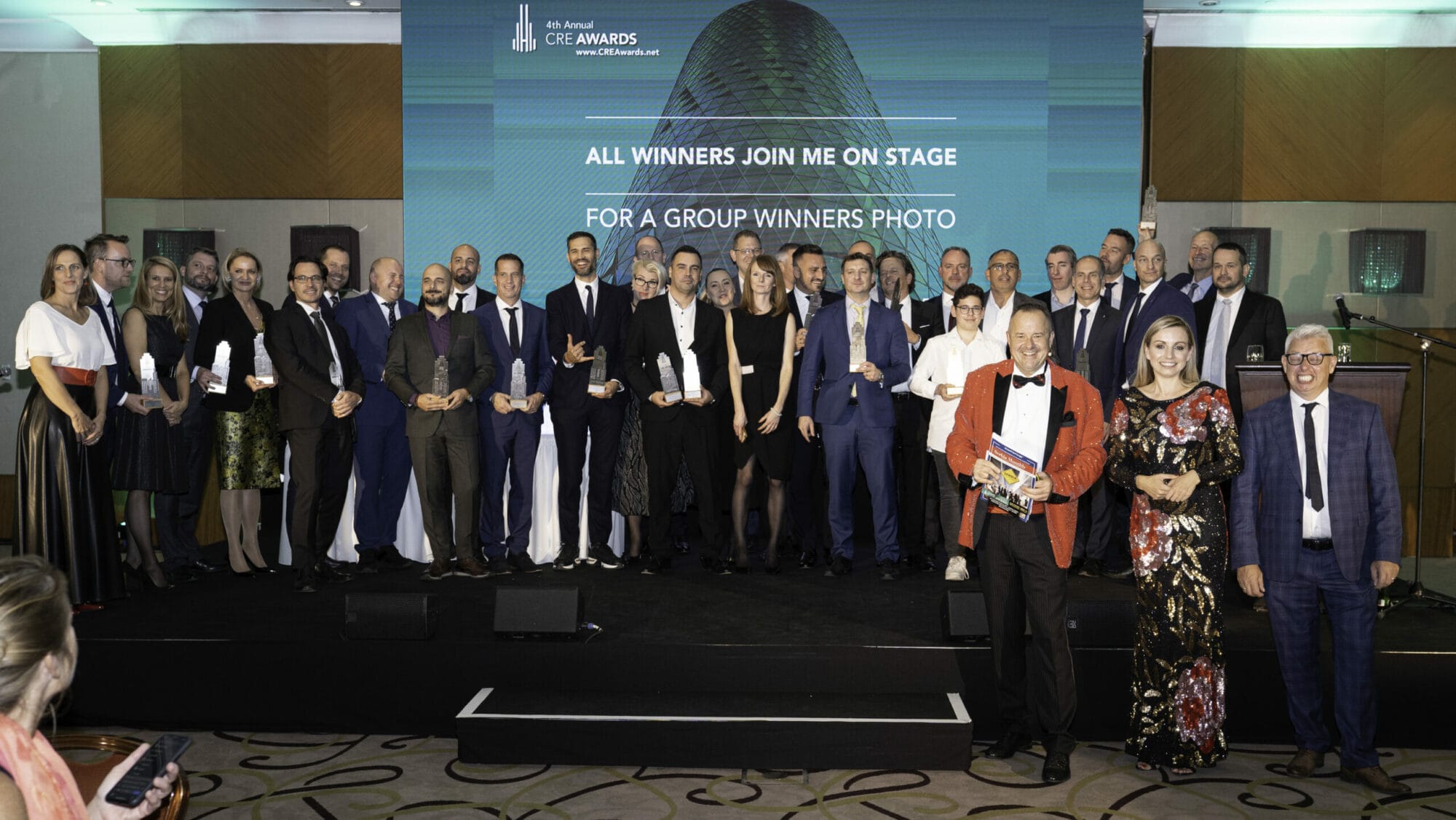 The CRE Real Estate Awards is the only commercial real estate event that is truly an international event in Hungary with over 250 attendees, and an estimated 40 per cent flying in for the event. With some of the most active local regional and international companies attending this event is not to be missed.
PROGRAM – MORNING – BREAKFAST & CEO SPEED NETWORKING (8:45 – 9:30)
This high-impact one-day event starts with the Investment Forum (8:45-14:00) including high-speed investor networking, presentations on the economy and government, discussion panels on investment, finance & banking, development and ESG – covering the office, retail, and industrial sectors, wrapping up with Q&A session, and a light lunch with networking.
EVENING AWARDS (THE ULTIMATE NETWORKING EVENT)
The evening begins at 18:30 with opening cocktails, at 19:30 a 5-star sit-down dinner and awards presentation, and at 22:00 – 24:00+ late-night networking and entertainment in the traditional EuropaProperty fashion.
The awards ceremony is a unique opportunity to meet with colleagues, clients, and new and old contacts, and meet new entrants to the market. This makes for an excellent opportunity to promote your company or project in a professional and social atmosphere.
Event Schedule
October 19
The Jury dinner will be hosted  at the Intercontinental Hotel. Each Jury member will introduce themselves to the other Jury Members and then voting on all of the categories will begin. The winners will be announced at the main awards gala on Thursday 20th October.
CEO NETWORKING & BUSINESS BREAKFAST
Enjoy the full 5* InterContinental Budapest Buffet and network with the other attendees before starting the CEO speed networking – (each person in the room has 30 seconds to introduce themselves and their company)
What are the latest investment trends and development expectations? How resilient are the office markets? Will secondary cities grow in importance? What is the mid-to-long-term outlook for the region's office markets? Which investors are looking to invest? Where are the opportunities? Where is the value? How liquid are these markets? Are ESG considerations central to an investment decision? Will the role of ESG and sustainability accreditations be enhanced in the post-pandemic environment?
Moderator – Craig Smith, EuropaProperty.com
Speakers
Manfred Wiltschnigg, Galleon Capital Management
Peter Takács, Newmark
Thomas Villadsen, Allianz Real Estate
Peter Szamely, Hypo Noe
COFFEE & NETWORKING BREAK
A time for networking with speakers, sponsors and attendees.
Will offices remain an attractive investment option? What is the impact of increasing construction costs, inflation and energy prices on the office market? Margins are under pressure and at the same time tenants and staff are making more complex demands. How can developers and landlords achieve the necessary premiums to cover increasing costs? How will development strategies need to adapt to this? How will the new environment impact demand and take-up? Will financing and prelease requirements change? Will WELL and other interior accreditations become the norm?
Moderator – Craig Smith, EuropaProperty.com
Speakers
Boško Tomašević, CBRE
Hubert Abt, New Work
Angelina Nekic, Delta Real Estate
Csaba Zeley, ConvergenCE
Ariel Alejandro Ferstman, GTC
Zinaida Onczay-Vojnár, Considero Investments
COFFEE & NETWORKING BREAK
A time for networking with speakers, sponsors and attendees.
Warehouse and Logistics Market
Warehouse and Logistics have been one of the best performing sectors in the region, with e-commerce demand contributing to stable values. With the ever-changing e-commerce and infrastructure needs what is on the horizon for industrial development, fulfilment and logistics needs? How are developers and retailers reacting to the changing outlook and market dynamics? What synergies are forming between the omnichannel and traditional retail format? What major ESG challenges and transformations are forming in the industrial & retail sectors?
Moderator – Craig Smith, EuropaProperty.com
Speakers
György Lindwurm, INPARK
Zoltan Kemeny  DHL Supply Chain
Buffet Lunch & Networking
A time for networking with speakers, sponsors and attendees over a buffet-style lunch, liquid refreshments and tasty desserts.
4th Annual CRE Awards (black tie dress code)
Beamed live from the Intercontinental Hotel, our state-of-the-art gala night production will push the boundaries of technology to bring you an awards experience like no other. We encourage attendees not at the physical gala to get dressed up, order a nice dinner, open a bottle of wine and enjoy the event 'Live & Online' on your big screen smart TV, as we announce the winners & thank the sponsors.
LATE NIGHT NETWORKING AND ENTERTAINMENT
"After Party" best and last chance for networking with all attendees. Celebrate with the sponsors, award winners, and short-listed companies late into the night.
Submit your company in the following categories
Tickets & Registration
Attending Main Awards Gala only – price per person
FORUM & ONLINE CEO NETWORKING + THE MAIN AWARDS GALA
Attending the Forum & Online CEO Networking plus the main Awards Gala – price per person.
CORPORATE TABLE PARTNER OF (10) TEN FOR THE GALA
Attending Main Awards Gala with a corporate table of (10) ten – 6500 Euro
Live & Online
This year's awards will be a hybrid-style event hosted LIVE at the Intercontinental Budapest Hotel and ONLINE via the CEO Networking Platform.
Please check the accommodation offer prepared by the Intercontinental Budapest Hotel.
We have invested a lot of time and expertise in creating a product that sets new standards in hybrid events. This multi-platform event will be a feat of new technology and promises to deliver all of the key aspects that our real-world events have done for the past 20 years.
EuropaProperty has fast become the Number 1 Producer of hybrid business events in Europe, connecting people and companies despite the disruption, facilitating deals and helping business get done.
We encourage virtual attendees to order dinner, open a bottle of wine, connect the Livestream to your big screen smart TV, and sit back and enjoy the show!
Good luck to all of the nominees!